The pain of grief is just as much part of life as the joy of love: it is perhaps the price we pay for love, the cost of commitment.
It's the end of an era. When Jennifer and I got married in 2001, we had seven cats: Allegra, Rebecca, Sebastian, Tangerine, Zucchini, Rosemary, and Azzie. Over the years since then, the cats passed on, finding their way to whatever awaits good and well-loved cats on the other side.
Azzie was the last of these, outliving all the others by several years (I would sometimes ask him if he ever thought about his old crew; and, of course, he would look at me inscrutably and not say a word).
Azzie was a dim little cat, who would get lost behind a clear shower curtain or not figure out that a jack-and-jill bathroom had two entrances. But he was a pretty cat (see picture above, or the pictures on Jennifer's blog post about him), and we loved him. Though we did warn him that when his looks went, he was out on the streets.
A few months ago, he developed a sinus infection that wouldn't go away. The vets gave him several shots of Convenia, and he had rounds of amoxicillan and Veraflux, none of which did any good for more than a couple of weeks. After they wore off, he would be right back to sniffling and snorfling and sneezing. And it just got worse and worse. He developed arthritis in his hind end, and we ended up shaving off his magnificent fur because he would constantly get mats that he wouldn't let us comb out. His spiffy tail, which he used to hold to one side because of an ancient injury started dragging on the ground behind him. And yesterday we finally decided it was time to let him go. He lived for nearly twenty years, which is long-lived for a cat. I was hoping he would make it to April, but it was clear that he was suffering: he was barely eating, and we think the congestion was getting in the way of his sleep, and since a cat is approximately 70% sleep, this was a serious issue.
He was a goofy cat. I don't know when or why I started blaming him for everything that happened ("BELCH!" "Excuse you!" "Azzie's power is great!"), but I did. I thought it was funny. Jennifer probably found it less so. Azzie didn't care either way about this power that rested on his shoulders.
The house will feel strangely empty without him around, either sniffling and sneezing his way around the kitchen as he had done for months, or whining loudly because it was supper time, as he used to do before he got sick. I'll have to retire my "Azzie's power is great!" jokes. We'll have to stop singing the silly songs that we used to sing about him.
Goodbye little Azzie. We love you and we'll miss you so much.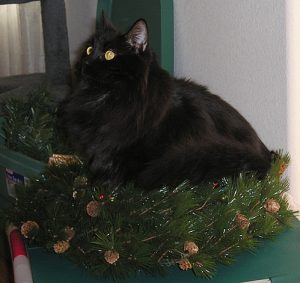 This is a picture of Azzie in a Christmas wreath from 2003.