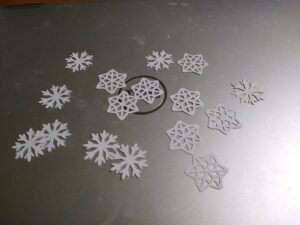 Okay, Narlee, having seen the madness of the honey bells behind the brittle façade of reality (represented by a shrub), is overjoyed and returns the Golden Key to the sisters. This whole adventure makes me think of Edgar Allen Poe and H. P. Lovecraft, even if neither writer would have ever deigned to have female main characters. This is a tale for a more modern and enlightened age. I'm not saying that ironically. Both authors were extremely problematic, perhaps Lovecraft more so than Poe.
At any rate, Narlee is so happy that he offers to accompany the two sisters on their journey to find the Magic Chest. We already know that the Magic Chest, when opened, will allow penguins to fly on Christmas Day, but will it let Pep the Lungfish and Narlee the Snow Monster fly as well? We shall see.
This story is taking on cosmic twists and turns I'm not sure the author intended!
---
Anyway, here's some music for you, some of my favorite holiday songs. I've shared them before, but, you know, I can't help myself.
First, "The Season's Upon Us" by Dropkick Murphys, my favorite Boston-area Irish punk band. Loud and exciting, this really gets to the heart of a raucous family gathering which is probably nothing like yours or mine.
Second, "It's Beginning to Look a Lot Like Fishmen" by the H. P. Lovecraft Historical Society. I'm not sure who did the video, but it was definitely someone clever. If I researched it more, I'd find out. But here's the weird little video to a weird little song:
And, finally, a Christmas classic: "Fairytale of New York" by the one and only Pogues. A classic, it was even featured in the Netflix miniseries "Lily and Dash", which I highly recommend. Be aware that this song contains a couple of slurs, so you may wish to skip it.
There are plenty of Christmas songs performed by classic punk bands, and I definitely plan on checking some of them out, although for now I am listening to some classic crooners sing their Christmas tunes. At the moment, it's Vince Guiraldi's "Linus and Lucy". Always a classic, even if not necessarily a Christmas tune.
'Tis a cosmic and musical Holidailies!
---
Today's entry in the Episcopal Advent Calendar (Go) reads, "Go out into your neighborhood today. Where is God at work? Ask God to show you how you can celebrate that good work and name God's presence in your community."
The Episcopal Church is not without its problems, including dwindling membership and a growing schism over the rights of LGBTQ+ members of the church (should they be allowed to be priest? Should same sex marriages be blessed by the Church? I say yes to both). However, I really like that the church places its emphasis on finding the divine not in splash and money and what-not but in neighbors and the community. The Baptismal Covenant reads, in part, "Will you strive for justice and peace among all people, and respect the dignity of every human being?" (The response is, "I will, with God's help"). Compassion is central to the tenets of the Episcopal Church, which is one of the reasons I love it.
Tonight I'll be wandering into Trinity Episcopal Cathedral in downtown Sacramento to watch my wife perform with Vox Musica in their 2022 Christmas concert. I'll keep an eye out for God in the midst of that.