Feeling much better today. No asthma (yay Prednisone!). Weight loss proceeding normally (in spite of the Prednisone). Very few regrets at the moment (possibly because I've decided to write that silly book, The Neverending Symphony, in 2020 — more on that later). No major depression (also in spite of the Prednisone, which messes hard core with my emotional state).
So here are a few seasonal things.

Because people have asked for it, here is a picture of me with long hair and beard. It's not a very good picture, but it's the only one I have. It was taken — well, back in the 90s. Probably '92 or '93. After I graduated from college, at least. It's seasonal, because it was shortly after Thanksgiving. My parents, little sister, and I went to a dude ranch (called, appropriately enough, "Greenhorn"), and I went riding on a horse on this day. It started out raining that morning, but by the time we came back, it had started to snow. It was pretty chilly. And this jacket that I was wearing on that day? NO FREAKING POCKETS! I have pockets in my jacket now, though. I'd learned my lesson.
When I had long hair and a full beard, my dad used to tell me that I looked like a bomb-throwing terrorist. That was mostly because I wore black, too, and had a black trench coat.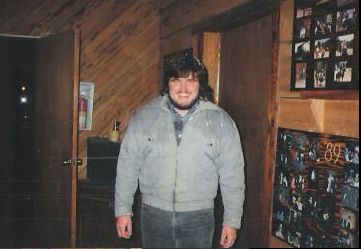 Here's a Christmas song you should listen to, with accompanying video. It's called "The Season's Upon Us" and it's by Dropkick Murphys, my favorite American Irish punk band (for proper Irish punk bands, I think the Pogues are my favorite).
Lovely song, isn't it? Now there's a family that loves each other.
I have no thoughts on the Elf on the Shelf (today's Holidailies prompt). It's supposed to be an old tradition, but I'd never heard of it until this century, and I suspect it was invented by Borders (or some similarly commercial entity) to sell those little dolls. I do think it's kind of a creepy thing to do, though, especially if your child believes that the elf really is a spy for Santa. But I suppose I'm over-cynical about it, just like I am over-cynical about most of the materialism that surrounds the holiday (heads up: I'm working on a blog post about what Christmas means to me on a spiritual level; expect some Episcotalk soon).
Anyway. So there's that.
Beer's still not fermenting, which saddens me. I don't know whether I ought to junk the wort at this point, or add more yeast. I don't want it to taste too yeasty. I have experts I could ask. I should ask them. I'm pretty sure I pitched the yeast too early, though.
Last night Jennifer made gingerbread men. I helped by attaching eyes and noses and occasionally taking trays of cookies out of the oven for her. I'm very useful.
That's all I got for today.
'Tis the season for (meandering) Holidailies