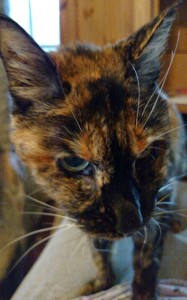 I remember losing my one of my first childhood pets: Herman the mouse. I woke up that morning and went straight into the den where he lived to check in on him, and found him utterly unresponsive. I tapped on the side of his cage, said his name, and so on, but nothing happened.
That day I couldn't concentrate at school, and probably started crying at one point because my teacher, Mr. Walsh, took my into the hallway to ask me what was going on. "Herman d-d-d-d-died," I sobbed. Mr. Walsh was very understanding and went easy on me in class that day.
It doesn't ever get easier; losing a furry member of our family is always hard. And today I'm still having trouble processing that last night we lost Rosie. I'm sitting here at work (well, technically on break at the moment), unable to concentrate on what I'm supposed to be doing.
Rosie was a good kitty, one of the original seven that came into the marriage with Jennifer. I liked her, and had a pretty good relationship with her. She never sat on my lap or anything like that, but she often did sit on the cat tree in our office, purring and occasionally meowing at me. Sometimes I had treats for her: cream cheese from my bagel, bits of turkey from my sandwich, or French fries, which she loved (she would even sneak a fry from a pile of them).
Last night, knowing it was time, I gave her lots and lots of cream cheese before we took her to the emergency veterinary clinic. This resulted in her farting the entire trip, making the car smell like cat poop. It was kind of funny — because, admit it, cat farts are funny — but I couldn't laugh.
At the hospital, Jennifer had to do all the talking, because I just couldn't say anything. I tried to be all cool and manly, etc., but I suck at that sort of thing. We didn't even bother asking for an emergency vet to look at her. We knew what was happening. The vet tech at the counter was very understanding, said they were going to do a "code seven" instead.
They took us into a small examination room, then took her away to put in the catheter. She was gone for half an hour while they did this, and Jennifer and I fretted that Rosie would get stressed feeling sick and away from us for so long, and Jennifer went to the front counter to ask what was taking so long.
When the vet came in with Rosie wrapped up in a blanket, we were relieved to see it was the same vet who had identified the fistula before. It meant that she could see personally how far the tumor and bone infection had progressed. She was impressed by Rosie's halitosis, brought on by the infection in her mouth.
Rosie purred the entire time. It was her way. The whole time Jennifer held her wrapped in the blanket. She purred a lot. She was generally a happy kitty.
Purr.
Breath.
Purr.
Breath.
Silence.
---