Today's secret word is antepenultimate!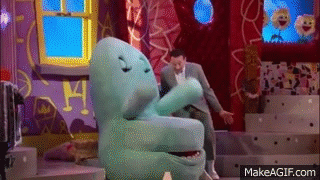 It will be defined in the antepenultimate paragraph of this blog entry. And this word has probably displaced defenestrate (which, of course, means to throw someone or something out of a window) as my favorite word.
Today, this blog entry is just about some snippets that happen to be floating in my brain. For example: In my opinion, the Terminator franchise ended with Terminator 2: Judgement Day.
There was no need for any other films after that one. It wrapped up all the various threads and plot points and so on, and presented us with a nice clean storyline that worked on plenty of levels. It was a solid action story, but it also had depth of theme and characterization. The rest of the movies are just schlock cashing in on the name of the franchise.
That said, I did really enjoy the Terminator TV series: Terminator: The Sarah Connor Chronicles.That show was well-written and executed, and deftly played with themes of time travel, family, and so on. It's a shame that the WGA strike in 2007/2008 (am I right about the dates?) killed the show before it really got a chance to get going.
Same with the Alien franchise. Alien was a solid horror movie; Aliens was a solid action movie. Both are fine films. The rest of the films in the series are junk. Even Prometheus, which, I admit, was beautiful to watch, especially in 3D. I haven't even bothered watching Alien: Covenant, though I might if it ends up free on Amazon Prime or Netflix. This video here demonstrates precisely why Prometheus was such an awful film:
Not all movies have to have thematic depth or solid characterizations to be good fun, of course. The 2014 Godzilla film was pretty much nothing but an action movie featuring giant monsters duking it out over the Bay Area. Characterization was kept to a minimum. It didn't really hit the right thematic notes that the 1954 Gojira film had; that film was more about the US atomic attacks on Japan than about the monster itself. I enjoyed the 2014 Godzilla but I struggled with its purpose beyond the aforementioned monsters slugging it out.
The next American Godzilla film, Godzilla: King of Monsters, is, I believe, set to be released in 2019. Again, it will probably be light on character and theme, but heavy on CGI monsters battling each other.
Antepenultimate means "the third from the last". As in, this is the third-from-last paragraph of the blog entry. Or, more precisely, "before the penultimate".
And this entry is the penultimate paragraph; that is to say, second-to-last. I read a novel many years ago by Phillip K. Dick called
 The Penultimate Truth and it, like everything else Dick wrote, it was odd and bizarre and has stuck with me ever since I read it as a freshman at UC Davis. Come to think of it, this might have been one of the books that drove me toward getting a philosophy degree.
And this is the ultimate paragraph; that is to say, the final one. I hoped you enjoyed it.
---
[amazon template=wishlist&asin=B005MZN172]