I'm not much of a photographer, even with the plethora of tools and equipment available to us these days (e.g., a phone with a camera in it), but today I snapped this picture of our foster fails Timmie and Guffaw snuggling together on our loveseat in our living room: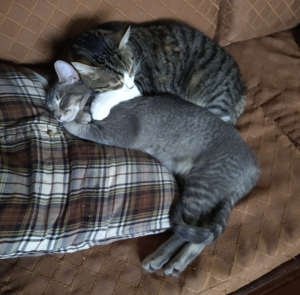 I showed it to Jennifer and she said it was ridiculously cute, so I have to post it. So here it is, on my blog.
Timmie is the first of our foster fails. She was found in a water feature in a park in Sacramento, and brought to Happy Tails, the organization we foster through. Because she was found "in a well" she was dubbed Timmie (as in, "What's that Lassie? Timmy fell down the well again?" and if you don't understand that reference, that's okay, I just need to wait until the pain in my back goes away). She has some mild movement issues, but on the whole she is a very healthy and friendly and chonky cat. Guffaw is a more recent foster fail that we adopted because he seems to have chosen me as his person, a rarity. Almost all of our foster kitties glom on to Jennifer, and I haven't had a cat glom on to me since Tangerine, so this makes my heart warm.
In other news, the contracts have all been signed, so I can officially spread the word that my short story "Arkham House Rules" will be published in an upcoming issue of Sci-Fi Lampoon. I don't know what the details are, but I'm pleased with this turn of events.
Also, I have developed a pain in my tendon in my right arm, descending from my elbow to my wrist. No injuries occurred. It just sort of started about five days ago. Whee. I'm going to go to the doctor in a couple of days to have it checked out. Fun times.
Okay, that's all I've got for today.
---
And a very Happy Holidailies to you!