Whew. I had a doozy of a dream last night.
I won't go into too many of the details because dreams are mostly boring except to the dreamer. In summary: my bicycle was stolen (by the employees of the Haunted Mansion ride at Disneyland), along with my credit and bank card. When I got to the bank to replace my card, I discovered that it had been turned into a paycheck cashing store, and had a wait time of eight hours. They were more than willing to let me in and give me expedited service because it was just a bank card I was replacing, but instead they kept me at the desk asking meaningless questions for hours upon end, and when I finally realized they were meaningless, they kicked me out.
Well, whenever I think about time passing, David Bowie's song "Time Will Crawl" gets into my head, so here it is:
Oh, David Bowie. Too pure for this world.
I don't really buy into dream analysis or interpretation too much; I believe dreams are mostly best interpreted in a gestaltish sort of way, taking into account everything that the dreamer thinks and believes and knows. "What did the red table in my dream mean?" "Well, what do tables mean to you?" I don't know, this may be oversimplistic, but it's a useful way of thinking about my own dreams.
So last night's dream, what with the troublesome bank manager and the thieving Disneyland employees, was, I think, about wasting time, and that's something that's been on my mind a bit lately. In my last post, I wrote a wee bit about my angst surrounding starting library school at age 52 and about the length of time it will take me to get my degree.
Here, I'll just talk about angst surrounding my writing, because I don't talk about that nearly enough.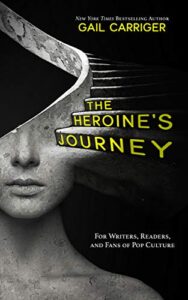 I've been reading The Heroine's Journey by Gail Carriger. It's a fantastic book, a nice rebuttal of the tired Hero's Journey that so dominates and pervades most writing. I highly recommend this book, especially to my writer friends.
Unfortunately, this book also has me thinking about writing. Not that this is inherently a bad thing, of course; it just makes me think of all the novels I've written, and the ones I'm writing, and the ones I want to write. The Heroine's Journey is a perfect model, for example, for The Outer Darkness trilogy that I want to write someday, a space opera with heavily religious overtones (based on a role-playing game that I created with some friends back in the late 90s). It's also a great framework for The X of Doom, my pirate trilogy. Unfortunately, it's not as good a match to my work in progress, And the Devil Will Drag You Under. And that's the problem.
Sigh.
I've written a number of novels. Here's a partial list:
Unfallen. A reporter uncovers mysterious goings-on in San Francisco and explores a vast supernatural conspiracy. Based loosely on a World of Darkness RPG I ran.
The Outer Darkness. Wherein a woman whose husband is killed in a mining accident on the planet Anchorage gets involved in an interplanetary war. This has little to do with the above-mentioned trilogy.
The Toymaker. A toymaker in 1850s San Francisco who turns out to be a powerful mage hooks up with a young widow from Boston, and they form a conspiracy to protect a group of supernatural people from being hunted.
The Solitude of the Tentacled Space Monster. Once upon a time called Fred Again. Madmen and elder gods vie for control of the Earth in a funny sort of way.
Code Monkey! A Love Story with Occasional Monsters. The subtitle says it all.
Love in the Time of Cthulhu. I only vaguely remember this one. Something to do with two people falling in love in a world which has been taken over by Cthulhu and other cosmic horrors, I think.
Padma. A medical resident comes to terms with death.
So why weren't any of these published? They never made it beyond barf draft, sadly, with the exceptions of nos. 4 and 6. Those two (and parts of 5) got to my critique group. I'd get to the point where it's time to start revising and then I get caught up in a new project. It's  tragic, I tell you. And very frustrating.
And the worst part is knowing that if I'd gotten my act together in 2001, when I decided to take writing seriously and wrote Unfallen, I could have finished all of these projects and more and gotten something published.
The biggest danger is that I will give up on my current work-in-progress for either The X of Doom or The Outer Darkness, and abandon And the Devil Will Drag You Under. I definitely don't want that to happen. I want to be able finish a novel and say that it's written enough, to the point where I at least do not fear shaming my ancestors when submitting it in queries to agents. None of the novels I've listed above are at that point. They are all regretful.
Ah well. What could have been is not necessarily what would have been, as they say. Still, if anyone has any tips for sticking to one thing and not getting distracted, I'd love to hear them.