It looks like I may be able to get my con fix this year after all. On Friday and Saturday, September 26 and 27, there's a local con called From the Land Beyond, which looks like it will be an awful lot of fun for a local con. It certainly won't be to the scale of Dragon*Con or ComicCon, of course, but even so, got a pretty decent collection of guests.
From television, they've got Erin Gray, who played Colonel Deering in the 1980's Buck Rogers in the 25th Century television series.
Like every other male geek (and probably quite a few female geeks) who grew up in that decade, I had a huge crush on Erin Gray (of course it would never rival my crush on Kathy Coleman, but that's a different story). Colonel Deering was sexy, tough, intelligent, and didn't take crap from anyone. How could I not have a crush on her? I've run into her at Dragon*Con and a couple of other places over the years, and she's just as good looking as she was way back when. I've never embarrassed myself in front of her like I did in front of Denise Crosby that one time, but I've come close.
They've also managed to get Richard Hatch to show up. Hatch, of course, played Apollo in the original Battlestar Galactica series,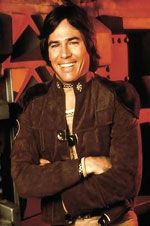 and plays Tom Zarek in the new Battlestar Galactica. I've seen Hatch a few times over the past few years, and he's struck me as not just a good actor and a great (and funny speaker), but also a genuinely classy guy to boot.
They've also got Michael Berryman, who manages to beat out Lance Henrickson for the title of ugliest character actor. He usually gets cast as mutants and other nasty critters (he was the lead mutant in the Hills Have Eyes movies), which is kind of a shame because I've seen him in other roles, and he's quite talented.
Sadly, looks are everything in Hollywood, and I haven't seen him in a role that showcases his talents since the season three X-Files episode called "Revelations".
They've also got Scott Sigler attending. I just finished reading Sigler's novel Infected
, which I really enjoyed and which I recommend to just about everyone. They've also got some local writers which I've never heard of, and that's okay too. I've tried hunting down some of their books, but it's been pretty difficult for some reason. I fantasize about being a celebrity author at one of these events myself someday, but it might be years and years until that happens, if ever.
Anyway, it's called "From the Land Beyond", and it's being held on the 26th and 27th of September at the Scottish Rite Center in Sacramento, It's only a couple of miles away from where I live, so I really have no excuse not to attend, do I?