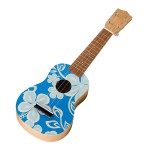 I'm behind on the A-Z blogging challenge. Woefully so. Partially because I've been busy; sometimes I write my blog posts during my breaks at work, but lately work has been so busy that I haven't been able to take breaks. And my evenings have been busy as well, what with my writers' group and other commitments (that television won't watch itself, after all). Plus, I just haven't been sure what to write. So today I decided I was going to use the letter U, and put a call out on Twitter and Facebook for words that begin with U. One response (from my sister) was Ukulele, so that's the word I chose.
I don't really have that many thoughts about ukuleles. I like the way they sound when played well. They seem to be popular, especially among nerds, but I don't really know why. Maybe it's because of Molly Lewis or Garfunkel and Oates.
I thought briefly about learning how to play the ukulele. There are several musical instruments I've thought briefly about learning how to play. When I was young, I took piano lessons, but they w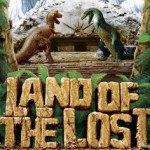 ere at the same time as my favorite Saturday morning television show, Land of the Lost. This, by the way, is a show that does not hold up upon watching as an adult. Even with scripts by notables such as Larry Niven, Ben Bova, David Gerrold, and so on, the show was clunky and silly. I sometimes regret the life choices I made as a seven year old child. But, on the other hand, the show had time travel, parallel dimensions, aliens, and, of course, dinosaurs, elements that certainly affected my creative proclivities as an adult.
Soon after college, in those "floating years", I decided to learn how to play the fiddle, because I was entranced with Irish folk music (particularly with the bands Tempest and Golden Bough). I couldn't afford to pay for lessons, but I did find someone who was willing to teach me in exchange for food. I took a few lessons on an instrument I rented, then ended up delivering pizzas for Pizza Hut and my schedule no longer allowed me to take the lessons. I returned the fiddle, and never played again.
But back to the ukulele. Of all the ukulele players I know of (and, I can count them on one hand) my favorite is, of course, Israel Kamakawiwo'ole. And my favorite song of his is his medley of "Over the Rainbow" and "What a Wonderful World" (the video of which I'm linking to below). Actually, I really can't listen to this song without crying these days. That's because I downloaded the song onto my MP3 player about six years ago, and on the day that Tangerine got sick I listened to that song over and over and over and over and over again, especially as I was driving her to the emergency vet for the last time. Even now, as I write these words, I'm starting to get a little weepy. So I'm going to wrap this up. I'll catch up on the challenge later today.
---
La la la, it's the A-Z Blogging Challenge, doo be doo.