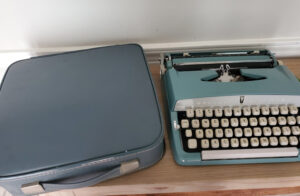 This topic was suggested by Kat Templeton. Hi Kat!
---
Why do I write?
Honestly?
For the glamour, the fame, the money, the groupies!
And now that you've taken a moment to stop laughing, I can tell you that I don't really know why I write. I don't remember not wanting to be a writer. As a kid, I wrote a lot of stories, sometimes involving the detective Fizziwinker (was that his first or last name? No one knows!), or monsters, or weird aerial phenomena. I know that my mom has at least one of my first "books" in her cedar chest at home. And I don't remember how old I was, but I'm pretty sure I was in junior high school that my mom gave me a typewriter of my own to write my stories with. Said typewriter looked something like the one above.
I know why I write what I write, which is "contemporary comedic fantasy with elements of cosmic horror". I wrote a blog post all about it a few years ago, in which I basically said that I write these stories to help me come to grips with the trauma of having seen too many scary movies when I was a kid.  That's not the only genre I write in, though; I've written straight horror (as in "Who Remembers Molly") and what I think of as mind-benders (as in "Trying to Stay Dead") and a genre I like to call "Northern California Gothic" (as in "Burying Uncle Albert").
I guess I write because it comes naturally to me. I like to read books and stories, and I like to write them. (I used to draw comic strips too, but we won't talk about that any longer.) I'm never going to get rich as a writer (hardly anyone does), and Jennifer's enough groupie for me. I am of the opinion that I am a pretty good writer, and I certainly want my efforts to be known and recognized, as most writers do, and there's nothing wrong with that.
Anyway. On to the next topic!
---
Today's book is The Repossessed Ghost by Brian C. E. Buhl. I've already talked about it in my BayCon report, but I wanted to re-recommend it. I had the opportunity to read an earlier draft, which was very well-written, and this final version is excellent. Go forth and read!