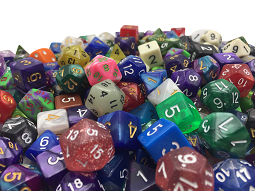 Another topic suggested by Brian C. E. Buhl! Hello again, Brian!
---
First of all, a big welcome to the readers who came here from the Just Keep Writing podcast newsletter! And a huge thanks to the hosts of Just Keep Writing for linking to my blog! This podcast, in case you aren't aware, is a great one for writers, with a diverse set of hosts and a wide array of topics. A few months ago, they did a read-along of Charlie Jane Anders's wonderful Never Say You Can't Survive; currently, they are reading along in Matt Bell's Refuse to be Done.
You may have noticed that I don't necessarily blog about writing every single day. Yesterday's post on my favorite sandwich wasn't about writing. I'll do better at finding ways to bring writing into the day's topic.
In today's post, I use a lot of terms familiar to old-timey gamers, like Player Character and Non-Player Character, that may not be familiar to non-gamers. If you find yourself faced with one of these terms and want to know what it means, just ask me here or on Facebook, and I'll do my best to enlighten you.
---
Gaming, when I was in high school and college all those years ago, meant primarily table-top role-playing games, such as Twilight: 2000, Call of Cthulhu, Boot Hill, and, of course, the giant in the playground, Dungeons and Dragons. If you were a gamer, you probably played one of these, or maybe you played a Steve Jackson card game like Car Wars. These days, if you're a gamer, you probably play video games, either on your PC or on your console of choice.
I use the first definition. I'm an old-time gamer. I started playing Dungeons and Dragons in my junior year of high school, occasionally DMing a game, occasionally playing, but none of us really knew what we were doing. I really got into it in 1986 in my first year of college, with a couple of friends who were also heavy duty gamers. I started my first campaign in 1987, and ran it for many years; I've run several campaigns in Dungeons and Dragons, and later Pathfinder, since. Most of them were in the same campaign setting which I detailed in meticulous notes that I still have a thick black binder. My current game is set in the 18th century Caribbean and features pirates.
So, that's the perspective I think of when I think of gaming and writing.
I know that lots of writers credit role-playing games (RPGs, or TTRPGs — Table Top Role-Playing Games) with learning the craft of writing. Playing a character in someone's campaign can give you deep insight into that character and how characters in general are created and how they work, while running a campaign can give you the same insight (since you're probably playing a bunch of NPCs —Non-Player Characters), as well as a deep dive into worldbuilding and story generation, especially if you run a homebrew campaign instead of a pre-made module.
For me, though, things were a little different.
My DMing style is what like to call "Reactionary Improvisational", which means that I pretty much make up the storyline and the ongoing world in reaction to what the players do during the game and the questions they ask. I may create a puzzle without a solution, for example, and simply trust when I'm running the game that there would be fix or six smart players who would come up with a solution that I think works. Or, as my friend Dezzy once put it, I might have an orc in a battle with a halberd, and when questioned about it I would not only give a detailed and interesting answer, but I would by the next session have a detailed culture built for the orcs that includes their using their halberds as weapons of honor in certain types of battle.
It's all improvisational, in other words. I mean, I learned much about worldbuilding, and happily created worlds and scenarios for games of all sorts. Did I learn about plotting and character? That's a difficult question for me to answer, since everything I've ever done was pretty much improvisational. My games were led, plotwise, primarily by player actions, instead of having the plot guide the characters (but never forcing them onto a particular path, which is anathema to DMs). Thus, in my stories and novels, I tended, for a long time, to have passive characters who reacted to events around them rather than initiate them. I've definitely gotten better at this since it's been pointed out to me by members of various writers' groups and other readers and editors, but it's something I still struggle with.
This is not to say that I regret in any way all that time I spent playing TTRPGs. I have friends I've known since high school that I wouldn't have made without gaming, and I know that most people who played my games had a grand time (you can't please everyone of course, and some people didn't like them, which was always fine with me). And, of course, I have plenty of dear friends of over twenty years that I bonded with over our love of Dungeons and Dragons1, and I regret none of that. It's also been pointed out to me that some of the puzzles I created for my sessions were deeply philosophical or moral ones, and the players really enjoyed solving them and learning from them.
So. Worldbuilding, yes. I learned a lot about that from my years playing TTRPGs. Characters with agency and plotting? Probably not so much.
---
Today I finished reading Kindred: Neanderthal Life, Love, Death, and Art, by Rebecca Wragg Sykes. I've always had a fondness for our Neanderthal cousins, whose DNA many of us share, and what the world was like for them. At many points it a dry read, and somewhat slow, but I recommend it highly if you're at all interested in that sort of thing.