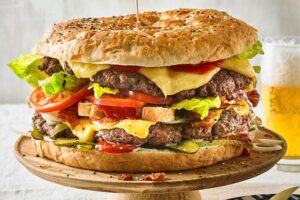 This topic was suggested by Chris Fairborn. Hi Chris!
---
First things first. Sorry I did not post yesterday; I had the best of intentions, but I wasn't feeling well. If you followed the link on Saturday's post to the Weird Al video, you know that I have a bad hernia, and sometimes it hurts like a bear. A big bear with sharp teeth. I've had it for awhile, and my doctor says there's really nothing that can be done about it unless I lose a significant amount of weight.
Ahem. I may have a stern conversation with her at my next physical.
Anyway, on to the topic!
---
My favorite type of sandwich? Gotta be turkey. I love turkey sandwiches, even though my stomach has issues if I eat too much turkey in one sitting (let's not go there). I especially love turkey sandwiches on sourdough rolls with plenty of lettuce, tomatoes, and mayonnaise. Maybe pickles. But plenty of turkey. My favorite purveyor of turkey sandwiches right now is Mr. Pickles, which I know is silly; it's a chain restaurant, after all. But why not? The bread is fresh, the turkey is oven roasted, and so on.
I'm also fond of the vegetarian burgers they serve at Fox and Goose, so I'm not totally irredeemable.
But the best sandwich I've ever had was actually a hamburger. I get salivatey every time I think about it.
In 1995 or so, my girlfriend and I along with a mutual friend of ours journeyed to South Dakota in my girlfriend's Toyota 4 X 4 pickup. We got into an accident just outside of a campsite near Yellowstone (aye, thereby hangs a tale, which I'll tell some other time) which damaged the truck's axle, leaving the truck pretty much undrivable for very long. A makeshift temporary repair later, we were able to make it to Cody, Wyoming, where the insurance company of the guy who hit us paid for our hotel stay and food and all that. We stayed in Cody for a few days while the replacement axle was shipped up from Denver, Colorado.
And that burger I mentioned?
I don't recall the name of the hotel we stayed in, and I have no idea if it's even still there, but it was across the street from a little restaurant whose name I can't recall either. That restaurant served a HUGE burger. Half a pound of Angus beef, dripping with condiments, loaded with veggies, perfectly cooked to medium rare and seasoned with all kinds of just the right seasonings, and served up on a delicious Kaiser roll.
As I said: salivatey. Is that a word? It is now.
If I could go back to Cody and that restaurant and back in time to 1995, I would have another of those magnificent burgers. It may be more delicious in my memory than it actually was, but I'm not going to think about that. It was truly a transcendent sandwich.
There were other things that happened on that trip; it was the summer Jerry Garcia died, and it was the summer that saw the first airing of the infamous "Cornholio" episode of Beavis and Butthead. But the burger.
Excuse me, I've got to wipe the drool off my keyboard now.
---
Today's book recommendation is The Drowning Empire trilogy: The Bone Shard Daughter, The Bone Shard Emperor, and The Bone Shard War, all by Andrea Stewart. And I won't hesitate to drop names and say that Andrea is a friend of mine, and we go back years and years. I plan on riding her coattails when I finish my novel. Anyway. Go read these books. They're fantastic!